Back to all games

Explore the sexy, savage and brutal world of Conan the Barbarian. Washed up on the shores of Tortage Island, a beaten-down slave with nothing but a broken oar to defend yourself with, so begins your epic adventure throughout Hyboria. Explore spectacular locations, from mountains to jungles, from the magnificent city of Tarantia to the Eastern Empire of Khitai. Forge your destiny together with thousands of other players in this best-selling massively multiplayer online game.
---
Game features
---
Play it for free today

Age of Conan: Unchained is now completely free to play, allowing you to experience the adventure of Hyboria alone or with your friends without ever having to worry about a subscription. Becoming a Premium member unlocks all the content that the game has to offer.

Revolutionary Combat System

Age of Conan features one of the most advanced and active combat systems ever seen in a massively multiplayer online game. Control every swing of your weapon as you execute deadly combo attacks, weave together spells to create devastating effects, and use precision aiming as you fire your ranged attacks.

The Savage World of Hyboria

Roam the treacherous world of Conan the Barbarian. Embark on a savage journey as you explore the vast reaches of Hyboria, from the burning deserts of Stygia to the twisted jungles of Khitai. Dig through the deepest dungeons of the world, and engage in some of the most spectacular raids ever seen.

Epic Guild vs. Guild PvP Action

Join or form your own guild and construct an enormous guild city, from temples to barricades, that will benefit your guild over time. Then engage in the epic player vs. player action in the Border Kingdoms, as guilds clash together in their fight for natural resources as well as the strategic Battlekeeps.

Amazing Graphics and Sound

Groundbreaking visuals plunge you into a world of breathtaking beauty, utilizing the full power of DirectX 10. Age of Conan also features earth-shattering 7.1 surround and an award-winning orchestral soundtrack that makes your audiovisual experience all the more enjoyable.
Game Assets
---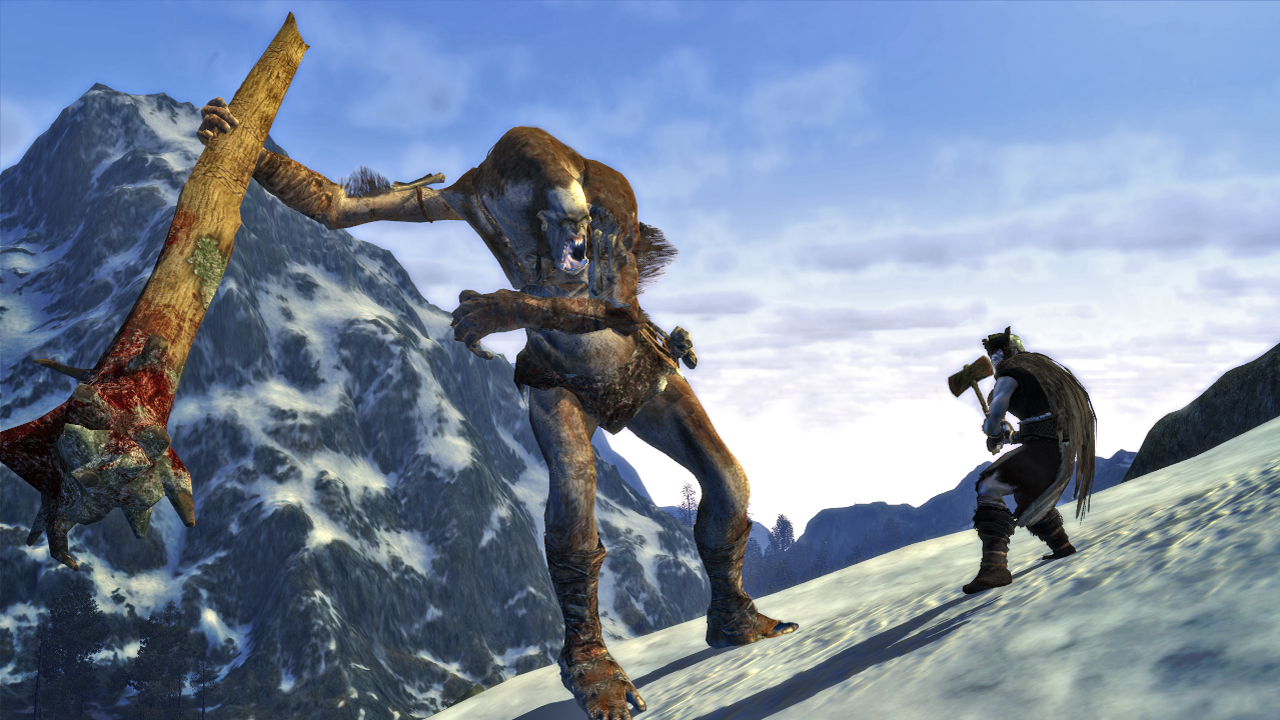 System requirements
---
OS: Windows XP Service Pack 2/Windows Vista/Windows 7
Processsor: Intel Pentium 4 3Ghz or equivalent
Memory: 1GB
Graphics: ATI Radeon 9800/nVidia GeForce 6600
DirectX®: 9.0c
Hard Drive: 32GB
Sound: DirectX Compatible
DVD-ROM: Quad-speed (4x) DVD-ROM drive
Broadband connection required
Legal notice
---
© 2010-11 Funcom. All rights reserved. © 2010-11 Conan Properties International LLC ("CPI"). CONAN, CONAN THE BARBARIAN, HYBORIA, and/or ROBERT E. HOWARD and related logos, characters, names, and distinctive likenesses thereof are trademarks or registered trademarks of CPI and/or Robert E. Howard Properties Inc. unless otherwise noted. All Rights Reserved. Funcom authorized user. Windows and the Windows Vista Start button are trademarks of the Microsoft group of companies, and 'Games for Windows' and the Windows Vista Start button logo are used under license from Microsoft. All other trademarks are the property of their respective owners. Software platform logo (™ and ©) IEMA 2006.